Your Book Doesn't Reach the People You Want. Do you know WHY?
"Ten years ago, you wrote a book and you never expected to find out anything about the author. Now with social media, everyone wants that connection. I think our readers want to be invited into our lives and brought on the journey and be part of this whole process."
- Jane Green, NYT Best-Selling Author
Dear Member of the "I-Want-More-Readers" Club,
Your book is a labor of love. 
You spend weeks, months - sometimes YEARS writing, re-writing, editing and refining your perfect message.
And then you publish it.
You make a few sales. You celebrate. You may even throw a party!
YAY!
Then in a few short weeks sales slow down, or stop altogether.
And suddenly you realize... "CRAP. I've told everyone I know about my book... and it's not enough." So you're now asking these questions:
"How do I sell more books?"

"How do I engage my fans and get them raving about me?"

"How do I find those people in the first place?"
You only thought writing your book was the hard part. You got through publishing it and realized writing was the easy part. And then came...
MARKETING... The evil "M" word. The word every author dreads.
It's time to STOP dreading the "M" word.
It's true that marketing is the hardest, longest part of the publishing process. In fact, you'll probably end up marketing your book until you take it out of print. And unless you find your perfect, target audience, you'll end up like this guy: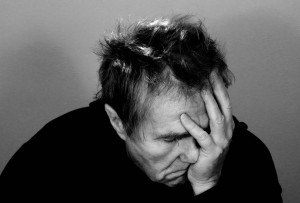 That is, until now.
Here's the Good News...
Now's your chance to learn from a professional with more than a dozen years' experience in the publishing industry.
From starting and managing self-publishing companies to making her own books hit the best-seller lists over and over again, Kristen Joy has seen and done it all.
She's published well over 200 books and e-books, coached thousands of authors from published to best-seller, and she knows the magic formula you need to find your target market and engage your fan base.
Quit Struggling and Spending Endless Time and Money Searching for Solutions that Don't Work!
In this Author's Quick Course: How to Find Your Target Market & Engage Your Fan Base, you will finally learn the secrets successful authors use to expand their reach and build a tribe of tens of thousands of loyal followers.
From nailing down your perfect reader and reaching them where they live to making them want to buy everything you have and tell all their friends about you, at the end of this course you'll be armed with everything you need to go forth and reach your audience!
Your specific audience's personality and how to relate to them so they say "YES!"
The essential elements of your Reader Marketing Funnel and why you MUST know this if you ever want to sell books.
Step-by-step how to create your Target Market Profile so you don't waste your time looking for sales in all the wrong places.
Kristen Joy's ultra, #1 best-kept secret and favorite FUN way to nail down her target market.
How to use millions of research dollars OTHER companies have spent so you don't have to.
What to post, how to post, when to post, and where to post on social media.
How to turn your own backyard into a cash-cow marketing machine.
The truth about list building for authors and WHY you need a list, no matter what.
The essential elements you need on your website to make it engaging and make readers beg for more.
Who to partner with in your book promotion and how to get them in your corner.
And as always, oh so MUCH MORE!
If you do any research on hiring a professional PR firm, you'll discover this training will save you over $2,000 per MONTH… on a typical minimum 6-month contract. And what you'll learn in this course can be applied to every book you'll ever publish!
If you publish just 1 book each year… with a career of an author of only 4 years… You'll save over $48,000 on PR and marketing. That's a whole heck-of-a-lot of marketing dollars that can be spent elsewhere!
For a VERY limited time, this course will be available for only $97 $47. And Kristen's worked with professional PR firms, partnered with pros in the business, and is holding NOTHING back.
This is your chance to learn from a pro how to act like a pro for a tiny fraction of the cost of hiring a pro!
CLASS DETAILS:
Session 1 covers in-depth your audience personality and target market profile, including a super fun exercise you'll go crazy over.
Session 2 covers your marketing funnel, list building, in-person networking

 and more!

Session 3 covers everything social media and Kristen's secret method to using marketing dollars other companies spend.
Session 4 tackles your website, promotion partners, and much more!
As always...
All your training replays ALWAYS available to you in your members area.
Allow about 30 minutes to receive your Welcome email and login information.
Refund Policy: Due to the astronomical value in this instantly accessible course and the included materials which match exactly the offer described on this page, there are typically no refunds available for this training program. Click here to view our full refund policy.