Tap into the Growing Money-Making Book Trend that Will Endure the Test of Time!
Now YOU can learn how to Design and Publish Your OWN Niche Journal easier, quicker and more beautifully than you've ever imagined!
Skip to the head of the class and be prepared to create your own beautiful journal by the end of this amazing training experience!
Check out what one of Kristen Joy's students created with this course!
Kristen made me believe I can do it, and I did! Her teaching style is brutally honest and very informative. I now take part in any class she is teaching!

- Kristin Kennedy Preachers
Dear Creative Author,
Imagine this… You walk into a bookstore or specialty gift shop. Along the wall is an impressive display of journals of all types and sizes.  Journals for list making. Diet & exercise journals. Blank-page journals with cool or quirky quotes. Journals for fun. Journals for in-depth writing. Journals for hobbies. Dozens of beautiful, quirky, attractive and awesome journals!
And yet, it's still missing…
There's that ONE journal, that special one you've been searching for, that you just can't find. The one that speaks to you, that has everything inside it that you want. And you know others want it, too.
Amidst dozens and dozens of choices, you leave empty-handed and disappointed. Don't let your audience leave empty-handed and disappointed, too!
Journals… they're like potato chips… or cats… You can never have just one! I know I own and use at least a dozen myself. From journals for weight loss to inspiration to blank books with lines and fun illustrations, the opportunities for tapping into this niche are endless!
Journals are a high-selling hot book style and the trend continues to grow, right now! Everything from journals for writing about your day to keeping track of life events, to managing your kids, your business and your life! But still… yours isn't out there yet. Is it?
As a well-seasoned author, artist and publishing professional, I've been getting ready to create journals for a long time. I've also received a LOT of feedback from people just like YOU who are ready to create their own journals. And in my own personal research, I've discovered a NEW trend of mash-up journals becoming more popular as niches combine to create one-of-a-kind highly-desirable low-content, highly-attractive and engaging books!
**What if you could look over my shoulder as I create a beautiful, simple, and marketable (yes, it'll look GORGEOUS next to all those other journals you'd LOVE to stand out next to on that shelf!) journal?
**What if I walked you through step-by-step beginning with idea all the way through EACH stage of creation?
How much would you invest in a live, step-by-step design, layout, publishing and marketing course for this exploding book publishing niche? (You'll be surprised at the answer!)
See, what I want to do is teach YOU exactly how to design and publish these amazing books yourself… without the high cost of hiring book designers. I don't want to just throw a bunch of facts together or share some good theories! What I want to do is put into your hands the know-how to turn around and design your own journal… immediately!
In fact, I will personally create AND publish one of these books from scratch in just TWO DAYS right in front of your eyes! You get the benefit of all the training, experience, research and know-how that comes with my well over 10 years in the publishing industry and experience designing and publishing books for well over a dozen clients. Skip to the head of the class and be prepared to create your own beautiful journal by the end of this training experience!
One of the most valuable aspects of Kristen's excellent courses is the power of the private Facebook group. Everyone is responsive and supportive. It goes a long way toward helping you achieve your best and fastest work. I highly recommend you join us in this course!

- Jeanette Cates
This "Journal Design Basics" class is an in-depth video training course that was originally taught as a LIVE Virtual 2-Day Workshop. You have the benefit of all the QnA sessions as well as Kristen's dynamic over-her-shoulder demo's EVERY step along the way!
In this extensive hands-on training, you'll discover...
STYLES: FIVE (5!) DOZEN (that's 60!) journal style ideas and how to "mash" them up with other niches to create the PERFECT one-of-a-kind product your audience will LOVE. (Your best ideas expanded and skyrocketed to awesome!)
NICHES: Step-by-step how to identify the perfect niche and theme to create journals for. (Profitable, attractive & scalable!)
JOURNAL COVER DESIGN 101: EXACTLY step-by-step demos of how to create a high quality journal cover, including the spine, dimensions, where to get images and MORE! (With Photoshop AND Adobe InDesign tutorials that work on BOTH Mac AND PC!)
INTERIOR BOOK DESIGN 101: EXACTLY FROM SCRATCH step-by-step demos of how to lay out the interior of your book page by page, with page numbers, how to do margins (and EASILY create those pesky lined pages) in design programs for BOTH Mac AND PC: PowerPoint and Adobe InDesign (PLUS a bonus surprise software training!).
BACK COVER DESIGN 101: What goes where, what to do about ISBNs, how to calculate spine width and MORE. (All the details, super-simplified!)
SELLING YOUR JOURNAL: How to price your journal to SELL, compete and still make money. (Stop wondering what to sell your book for!)
BACK COVER COPY 101: Step-by-step instruction AND realtime demo of how to write the book description for Amazon for your journal so it'll fly off the real and virtual shelves. (The most important sales copy you will EVER need).
PUBLISHING ESSENTIALS: CreateSpace, IngramSpark, pros/cons, which to use, when to use them, DETAILED EXACT STEPS to create your PDF print files and step-by-step how to upload your book. (The most DETAILED side-by-side comparison you'll EVER see!)
STEP-BY-STEP DEMO: exactly how to pre-sell your journal to your friends, followers and fans. (Oh yes!)
STEP-BY-STEP MARKETING: 10 (TEN!) complete out-of-the-box DETAILED step-by-step marketing strategies that are guaranteed to get your journal noticed and sold! (Including FIVE (5) BONUS marketing tactics revealed!)
ELEMENTS: A dozen elements to choose from to include inside your journal to set it apart from the competition. (Exceed your customers' expectations!)
BONUS SESSION Q&As: Q&As from each session when it was held live are INCLUDED! (Your additional questions will most likely be answered!)
And probably most spectacular of all…
Look over my shoulder and watch as I personally WOWed the live audience of this training (and you!) when I designed and published not just one, but TWO complete journals of your classmates' choosing from scratch in less than two days!
You get to watch every step. I'm not going to hold even one secret back from you. Watch in "realtime" as it unfolded and be inspired!
Published RESULTS FROM THIS COURSE in less than 10 DAYS!
These TWO Beautiful Journals!
(This photo was taken 10 days after the initial live training for this course. In this course I show you EXACTLY how I made these two books in LESS than a day and a half... step-by-step!)
In Just 10 Days!
One of your classmates took this training and created nine journals for her niche in nine days (count 'em... NINE!). You have no more excuses! This does NOT have to be difficult!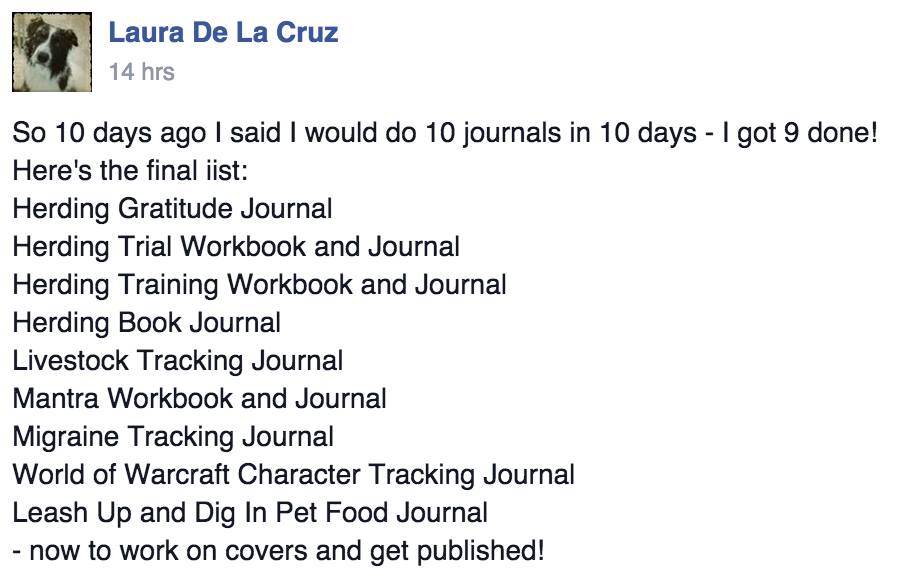 Just LOOK at what Laura's created so far!
With your registration today you will receive:
Access to the all FIVE Training Sessions with lifetime access to ALL the recordings (video/audio) and transcripts… forever! (Worth WAY MORE than your investment in this course.)
Enhanced Summary Transcripts of EVERY Session (priceless!)
BONUS: Authorpreneur Mastery: R.E.A.C.H. Your Perfect Customer complete training course. In-depth training course on how to find, target and sell to your ideal audience… applicable to ANY book. ($247 value all by itself!)
BONUS: Photoshop Instant Expert training (over 35 detailed how-to step-by-step instructional videos!)
This course is being RETIRED... NEVER to be sold like this by me again... So if you act NOW you'll get
...all This For ONLY $67!
Grab Your Spot TODAY!
Grab the BUNDLE and SAVE Even MORE!
Just look at the DOZENS of journals your fellow students have published in this WILD unboxing video!  This is proof...you CAN do this too!
 The Journal Design Basics Course is broken down into 5 Sessions with 5 corresponding recorded QnA segments
Session One -- Niches, Research, Basics, and More!
Session Two -- Cover Design 101, Interior Layout 101
Session Three -- Book Design Tweaks, Tips, Tricks and QnA
Session Four -- Publishing 101
Session Five -- Out-of-the-Box Marketing
 Advanced Journal Design consists of 5 Sessions with 5 corresponding recorded QnA segments
Session One -- Build Upon the Basics
Session Two -- Advanced Cover Design
Session Three -- Advanced Interior Layout & Design
Session Four -- Advanced Journal Marketing
Session Five -- Advanced Platform Development
Unsolicited Excitement from your Fellow Classmates!
Kristen delivers! Ninja style! I have been tuning into her training for months and her journal training inspired me to d not one, not two, not three, but OVER 150 journals/workbooks so far!

Laura De La Cruz
Thank you Kristen for sharing your passion, wisdom and most of all your skills and resources! I am motivated to FINALLY write my first book in the form of a journal. Thank you for giving me the inspiration and now motivation to do something on my own!

Sandy Rogers
Whew! I'm exhausted and jazzed!! What a terrific course! Kristen, you are awesome, and I'm stoked about getting my project designed and out there. Thank you for the info and kick-in-the-seat to get my project off the ground. 

Katy Pye
Kristen Joy, Thank you, Thank you - for training sessions jam-packed with usable information. I came into this class wanting to learn how to create journals and came out with a plan to set up my own publishing company, preview knowledge of publishing software, and new group of writing peers. You delivered above and beyond my expectations. Your homework assignments meshed with the flow of ceative ideas and we also came out with plans for projects. Your class delivered quality material plus a mind-set change. Thanks again. Wishing you Abundant Blessings in your future.

Lana Jackson
Love it Kristen! I have taken tons of similar courses over the years (not for journals of course) and you surpassed them all in content, delivery and took motivation to a whole new level. I cannot thank you enough for that. Because of you, I will have my journal off to the printers as soon as the few people finished reviewing for me. Thanks again for EVERYTHING! You my friend are an angel. 

Kaitlyn Storm
Kristen has been a great help since I found out about her. To call her a "Fountain of Knowledge" doesn't do her justice. She is the reason I went from publishing one book on Kindle to 7 in a years time.

Ronald Nutter
Kristen's positive energy, keep-it-real approach and ability to cut through the extraneous and hone in on the key elements is a true gift! I'm tickled to be orbiting her planet!

Christy M. Johnson
REFUND POLICY:
Due to the Instant and LIFETIME Access you receive to this high value training and accompanying bonus trainings, there are no refunds on this product.