I was informed of a rather scary (at first) publishing issue this morning by a Facebook friend. Rather than tell you in my words what happened, here it is in the author's own words: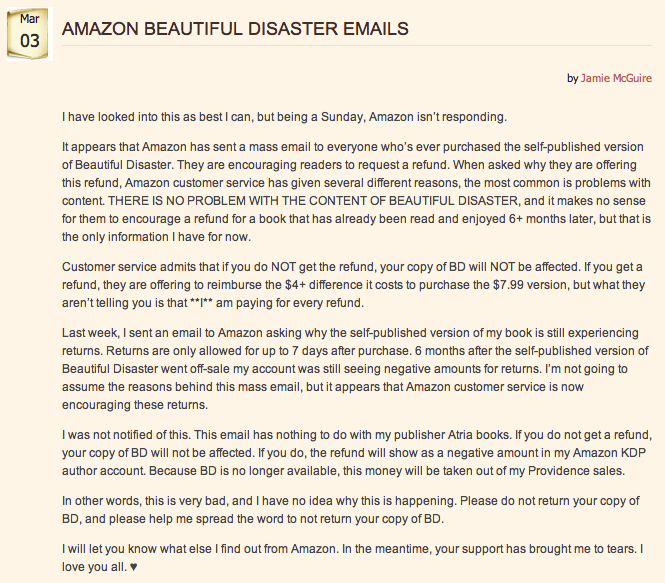 While the author, Jamie McGuire states that one of Amazon's problems with her book is "content," and other trusted publishing blogs including this post at The Passive Voice and this one at Author Marketing Experts, Inc. hint at song lyric copyright issues being the primary "content" issue, all of these ideas are simply speculation as Amazon has kept conveniently silent, even to the author. In my opinion, a publisher and/or author should be informed as to any issues with their book, especially legal issues. What if Amazon had caught a copyright infringement issue when the book was still in distribution as a self-published title? Would they require the author to pay their profits as well as hers back? And would they inform her and let her correct the book?
When it comes to copyright, if that is indeed what's going on here (again, speculation), authors need to be more careful in general. I always coach authors to only use what they know for sure is in the public domain, and even then find a way to say it in their own words to avoid any issues like this. Again, if copyright is the primary issue at hand, most authors haven't a clue what they can and can't use, what's fair use and what requires permission, so they should at least be told that is the issue and given the chance to rectify it.
A Few More Thoughts
First of all, if the author is being required to pay back the full retail price, plus the difference in her newly published book, where's Amazon's cut? Amazon took at least 35% from all her sales, so are they just pocketing that money? Why should authors be forced to pay back Amazon's profits?
Secondly, in more recent news, Amazon has since said one point on their initial email to Jamie's readers was a mistake, that being that the eBook would disappear from their Kindles if they didn't request a refund and repurchase the new published edition. Why is Amazon now saying that if people don't request a refund, their self-pubbed version of the eBook will remain intact and not disappear from their Kindles? If it really is a song lyrics content issue, since the self-pubbed version isn't available anymore with any sort of lyric fix, Amazon should not say that version will remain intact. That is inciting further copyright infringement.
If copyright issues are the true reason for this entire fiasco, chances are Amazon does have to pick up the fees for infringement, which would go a long way toward explaining why they're demanding the author, whose initial fault it was, to pay up. But the way they're doing it, by not informing the author who was the initial publisher what is really the root issue, disrupting her life as a professional and then sending a simple, non-explanatory apology saying the initial email they sent was a "mistake," is one more reason authors shouldn't put all their eggs in one basket with Amazon's publishing services.
There's nothing more dangerous than the power of one company to monopolize and make or destroy people's reputations and livelihoods on a whim. I'm not saying Amazon should be perfect. I'm just saying they should responsibly tell the author what the actual issue is, rather than beating around the bush and expecting the author to pay up for something that may not even have been her mistake to begin with.