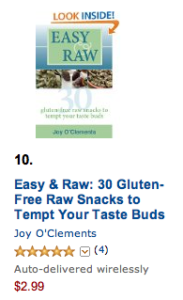 It's been a little over a week since I launched my experimental eBook, Easy & Raw: 30 Gluten-Free Snacks to Tempt Your Taste Buds and started advertising it to drive sales.
Here's what I've done so far:
Author Central
I set up my alias' account, made the book description "pretty" and added an author bio. I'm not sure if my alter-ego will put a photo up there or not… We'll see what she has to say about that. Plans are to include detailed reviews as I get them from experts in the raw food and nutrition world (see bulleted list below for my next steps).
Facebook Ads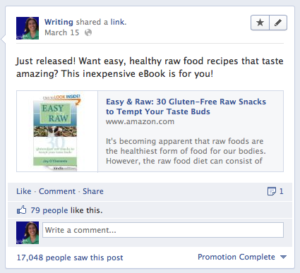 I ran two different Facebook ad campaigns. The first was a promoted post to my community of about 20,000 writers on the Facebook Page. It capped out at just over 17,000 views and resulted in a whopping two sales. OK so maybe that tactic didn't work! Here's why: I was marketing a book to a group of writers, but it wasn't a book they'd all be interested in. It was a cookbook, not a book about writing! Do I think a book about writing would have a lot more success? YES. I'm glad I only spent $20 on that campaign… Lesson learned: Target the right audience.
The second ad campaign I ran was a general Facebook ad. You know, the kind that shows up in the sidebar of your Newsfeed on Facebook. I know those rarely get clicked on, and usually if you advertise a site outside of Facebook (ie: not a Facebook group or fan page) it won't get as good of results as if you're advertising for "Likes" of a fan page. However, this campaign had much better results. My reach was over 64,000 more targeted people based off the keywords I chose, and my book did make it to the best seller list! And yes, I made back almost all of my investment in eBook sales, so that's a good thing.
I Cheated
I admit, the second thing I did was "cheat…" I shared in a couple of Facebook groups about my experiment and asked for people to spread the word. My health coach featured my book and this case study in her newsletter. My supportive group of weight-loss people helped spread the word. And I sent out this and the previous Case Study Report in my email newsletter.
The lesson? Use what you have. Use what you know. Use networks that already exist rather than trying to pave new roads in the book marketing jungle. Ask your friends and family to support you and help spread the word about your book. Send announcements in your email newsletter and ask others who target your audience to feature you.
Bottom Line Results
Here's the clincher… My new book hit the Amazon Top 10 Best Seller list in one category and the Top 100 in two others. I watched the sales in real time and took a screen shot of both my best seller listings and number of books sold (gray bar below best seller ranking graphic):


Here's proof how easy it is to be an Amazon Best Seller – I only needed to sell 14 copies! If you choose a niche category, you can easily hit the top of one of the hundreds of lists. Now, to get on the overall "books" best seller list would take a lot more work, but most people claim they have a best seller when they do what I've just proven is a piece of cake. And yes, it does feel pretty good. 🙂
What's Next?
I'm not stopping here! Here are the next tactics I have planned and will report on in future Case Study Reports:
Experiment more with Facebook ads
Contact raw food blog owners and ask if I can "gift" them with a copy of the book… purchase and send through Amazon's "Give as a Gift" program… and ask for an Amazon review in return
Create a Facebook fan page for the series
Put this eBook on a 99-cent promotion for a week
Finish and publish the next eBook in the series all about chocolate
Maybe… maybe put together a virtual book tour with afore-mentioned blog owners I previously gifted a copy of the book to.
Stay tuned as I continue reporting on this book and book series' progress. If you have any other ideas of things I can try, or something you'd like to see me try so you can see the results, please comment below!