Amazon Kindle Direct Publishing (KDP) is no longer approving Kindle books under 2,500 words, and reports say they will soon be removing all Kindle books under that length. Amazon states, "Content that is less than 2,500 words is often a disappointment to our customers and does not provide an enjoyable reading experience."
Quite honestly, I have to say it's about time. Books of that short length shouldn't be for sale, even for 99 cents (IMHO). In fact, next week's article on this blog will be over 2,600 words, and that's free content. If you're writing non-fiction Kindle books, you should always keep it above 2,500 words. To try and sell anything shorter than that is ridiculous.
The most affected eBooks will be poetry and short stories. While short stories can have several grouped into one volume, which I highly recommend, poetry may sometimes be difficult to publish a book over 2,500 words. There is no word on the street as to how this new rule will affect children's picture books, however I personally predict they will be exempt due to the genre and age group of the target audience… And the fact that most children's picture books are a fixed eBook layout style of programming, which is essentially nothing but pictures throughout the entire book.
It will be interesting to follow how Amazon keeps tightening the rules for Kindle books, and overall listening to the desires of Kindle book readers.
Here's a screen shot of a letter Amazon sent to an author: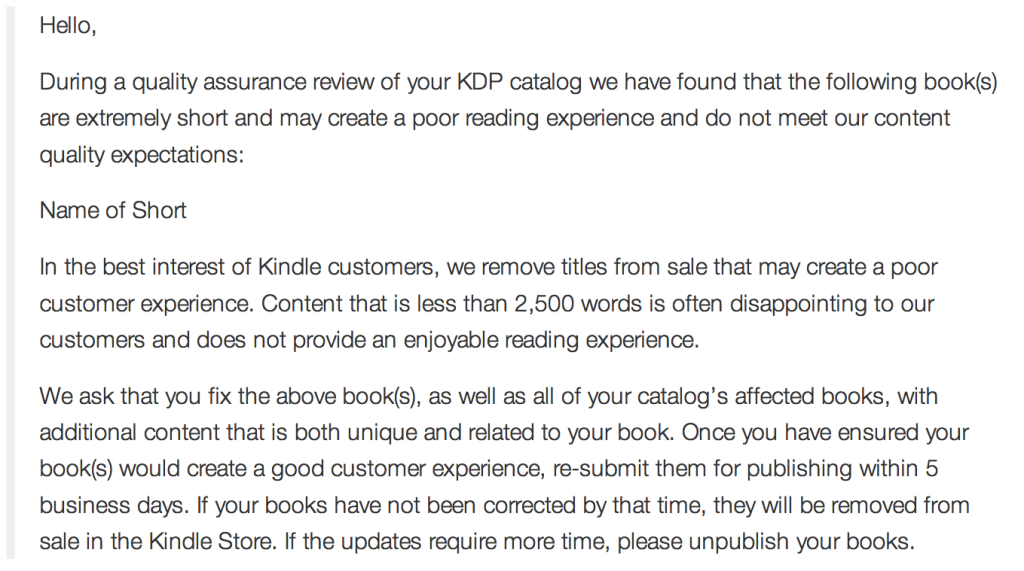 What do you think? Is this a good move Amazon is making? Or is it nothing more than a nuisance to aspiring authors?