Recently someone I highly respect in the publishing industry posted an article about how to strategically use Amazon Associates affiliate links in your Kindle books to drive more sales and get a little more kick-back from Amazon's affiliate program. I had heard this was against the Amazon Associates Terms of Service, but I searched high and low on all of Amazon's related websites and couldn't find anything that strictly said, "Do not use these links in eBooks."
To be safe, as I wanted an answer to this question for myself, I decided to ask someone at the Associates program office for clarification. I figured if I got an email saying it's OK, I'll start using this strategy myself. Or if I got an email confirming it is in fact against their TOS, I'd let the other parties know and post it here so hopefully it's easier for others seeking this answer to find it.
Here is Amazon's Reply:
Hello,
You are correct, Associate Links, Widget, and the aStore URL, can only be embedded in approved Internet websites, and are Not permitted to be used in e-mails, e-books/Kindle Books, newsletters, or in any other off-line manner.
We would be happy to investigate the matter further, please use the link below to provide us the URL of the website, or the Kindle book in question, and we will take action on the offending member.
We look forward in hearing back from you, and thank you for reporting this to the Associates Program.
Best regards,
Donny T.
Amazon.com Associates Program
Now, just so you don't think I'm making this up, here is a screenshot of the exact email reply I received: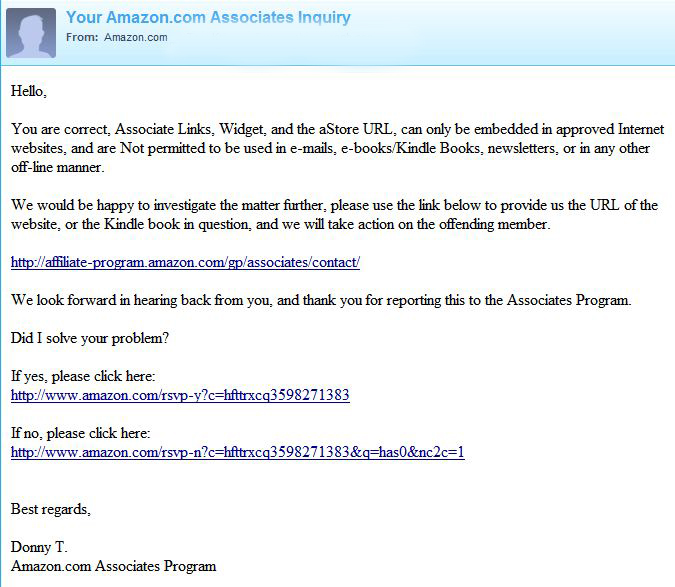 ***
There you have it, straight from the horse's mouth. Stay safe, keep Associate/Amazon affiliate links out of your Kindle books, and be aware that readers may report you and you may lose your publishing privileges for breaching this term of service. Please post your comments below!